Servus
We will help You to secure Your Organizations activities
Ready to serve
Finnish competence for more than 30 years
Servus software is a Finnish, versatile security software for planning and managing your organization's security activities. The first Servus Software was delivered in 1990 and since then the software has been developed together with customers.
Servus Software is suitable for a wide range of business activities. With the software you control for examble organization visits, management of the organization's own and external keys and other material that needs to be singned, management of personal security clearances, printing of various cards such as guest, partner and identity cards, and internal card orders. With the software, you do fire and rescue planning, redirect control room alarms and receive and redirect service requests. The Servus Event reporting works like a war diary, allowing to record anomalous events in the organization that require your attention.
To who is Servus headed for?
Servus software is suitable for small and large companies, regardless of industry. With Servus Software, companies of all sizes take care of the company's security. Users of the software are for example organizational security managers, maintenance managers, fleet and key personnel, customer service managers, lobby service personnel, and control room personnel. Thanks to its extensive access rights, the software offers a wide range of tools for different levels of the organization.
The software can be installed on the customer's own server or the customer can use the software as a SaaS service.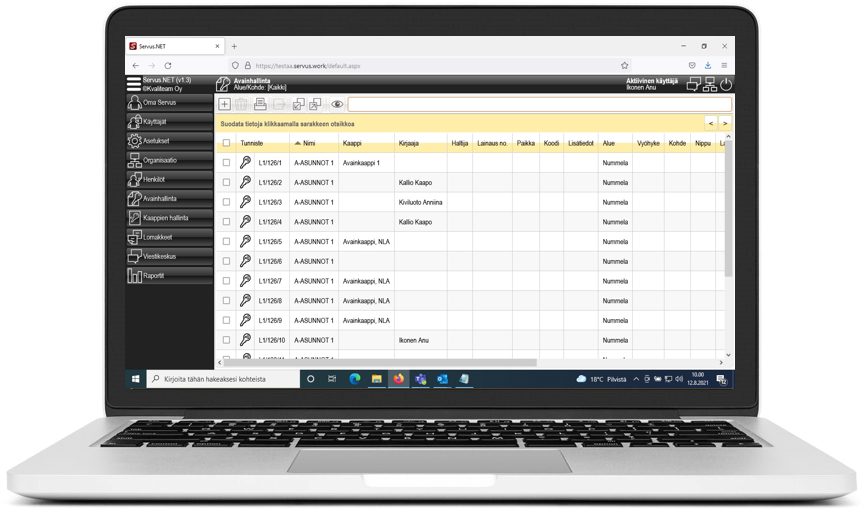 Servus helps to develop and unify security-related processes
Organization's security processes cut through the entire operations of the organization. Servus is software designed for companies and organizations to manage various security processes. With Servus Software, you plan, manage, and monitor the security activities of your organization; get comprehensive reports and statistics on security activities and incidents. Whether it's key management procedures, security control for staff, visitors or technical security control, Servus Software helps at the overall management of the various areas of the security field.
The software can be expanded at any time with new software modules
The Servus Software is ready for operational use as soon as you are! The uniqueness of Servus consists in its modularity. The program is built with features according to the customer's needs, and the system can be expanded with new modules according to the growing needs. So you can start using the software as needed right now and expand as needed. For example, the use of the program can be started with key management and, if necessary, additional products such as key lockers can be added later, and in addition to key management, the product can be expanded with access pass management or other necessary modules. Different units of the organization can also use the same system according to their own needs, yet utilizing the same database. Servus' versatile access rights offer a wide range of different visions, creating a unique Servus for each unit.