Access pass management
Professionals choise for security management
Servus-Software solutions I Products I Access pass management
Would it make easier to manage visits if information that is important to the company's security were immediately available?
With the software's unique user rights management, you define the rights:

• to host in one or more areas
• to be as a guest in one or more areas
• process and / or approve requests for visits to different security zones
Servus - Access Pass Managenment is software for companies and organizations that want to manage visit events in different security zones.
With Servus-Access Pass management You control:
Confidentiality and non-disclosure agreements
Security clearances
Check-in for incoming guests and visiting groups
Instructions for guiding guests
Contact information for hosts
Printing visiting cards, -stickers, access passes
Very versatile statistics and reports
In special situations, a clear report of guests, guest sites and hosts in the area.
A small company or organization?
Even if the company does not have classified facilities visited by guests, it is important for company and personal security to know who is moving on the company's premises. In this case, for example, in the event of an evacuation, information is obtained about the persons in the building.
A lighter version of the Access Pass Management is available for managing visits to unclassified facilities. With Servus Guestbook software you keep track of your companies visitors and print visitor cards and -documents.
With the Servus - Access Pass Management, you can also carry out self-registration of guests, with identification from the official identity card.
Peripherals
---
A reception can be arranged for the self-registration terminal. Identification is done by showing the driving- or identity card to the reader. At the same time, visiting cards and other necessary documents are also printed, if necessary.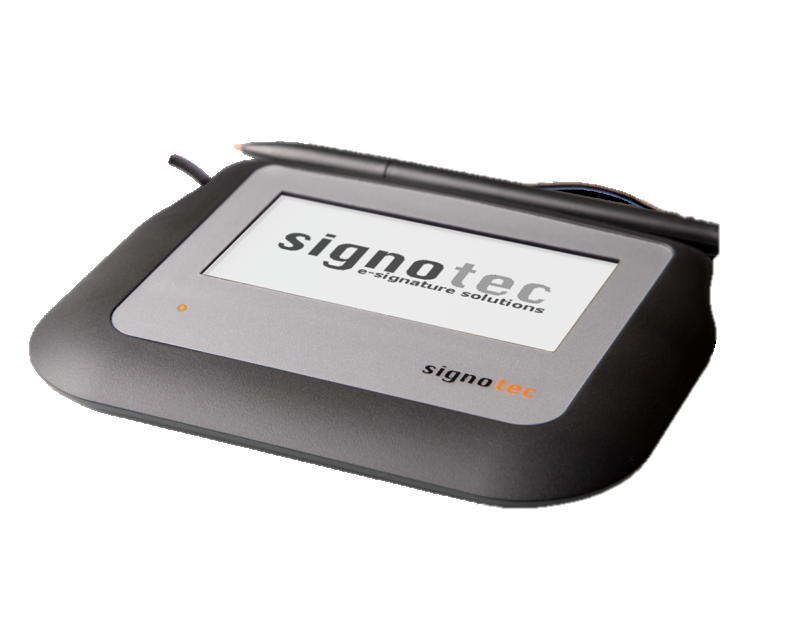 Digital acknowledgment speeds up and makes it easy to handover of keys and tags.
With the help of the Signotec signature pad, the keys are digitally acknowledged, which means that the use of key management software can be implemented completely without paperwork.
The signature pad is available in three different size options.