SAIK cabinets and lockers
A versatile selection of key cabinets and lockers for different needs
Yksilöllisiä avainkaappejakaappeja ja lokerikkoja
SAIK kaapeista ja lokerikoista löytyvät vaihtoehdot organisaatioon kuin organisaatioon. Jokainen kaappi suunnitellaan ja valmistetaan yksilöllisesti asiakkaan toiveiden ja tarpeiden mukaan. Yhden avainkaapin avainpaikkojen määräksi voit valita mitä vain 1-300 avainpaikan väliltä ja kaappiin voidaan lisätä myös eri kokoisia, ja eri ominaisuuksilla varustettuja lokeroita, tarpeen mukaan. Voit valita kaappiin yksilöllisen värin minkä tahansa RAL-värikartan värin mukaan, tai valita vakiotoimituksen värin. Myös kaapin oveksi voit valita teräs- tai lasioven.
SAIK-kaapeissa säilytät niin avaimet, aseet, puhelimet, avaintägit, dokumentit, työkalut tai mitä tahansa on tarpeen. Avainhallintaohjelmisto ja avainkaapit ovat suunniteltu kaiken kuitattavan ja seurattavan materiaalin hallinnointiin.
Security
The asset are stored in a steel-framed cabinet, protected by individual access rights. Only a person who has been granted access rights to the relevant key or compartment can take the item from the locker. Key borrowing time can also be limited to certain days and times.
The lockers can store for example keys, mobile phones, laptops, tablets, weapons, tools and various paper documents.
Cabinets can be equipped with accessories, such as a noise generator, alcohol lock, camera, various card readers and, for example, mobile phone/tablet chargers, allowing devices to be stored and charged at the same time.
SAIK-Key cabinets can be manufactured by burglary protection class 2.
Equip the cabinet to a key cabinet, locker or a combination of these - there are many options
Modulaariset MC kaapit
MC kaapit kootaan tilaajan käyttötarpeen mukaan erillisistä moduuliriveistä. MC 30 ja MC 60 kaapit muodostuvat viidestä moduulirivistä ja suurin MC 120 kaappi kymmenestä rivistä. Kaapin modulaarisuuden ansiosta, käyttötarpeen muuttuessa, kaapin moduuleja voidaan vaihtaa vastaamaan uutta tarvetta. Laajennusvaraa voidaan jättää myös peitepaneeleilla, jolloin kaapin moduuleja voidaan tarvittaessa ottaa käyttöön lisäämällä uusi moduuli peitelevyn tilalle.
Depending on the size of the cabinet, the modules can be selected with the following options:
✓ Key module for 3-12 keys ✓ Box module ✓ Mini box module ✓ Key in box module ✓ Phone module ✓ Cover plate
Miksi valita älykäs avainkaappi?
Turvallisuus
Sähköiset avainkaapit tarjoavat lisäturvallisuutta perinteisiin avainkaappeihin verrattuna. Niissä on vahvat lukitusmekanismit ja hälytysjärjestelmä, joka voi varoittaa, jos joku yrittää murtautua niihin.
Käytettävyys
Voit antaa käyttöoikeudet tietyille henkilöille ja vapauttaa resursseja avainten luovutuksissa.
Seuranta
Kuka on käyttänyt avainta ja milloin. Missä avain on nyt? Tämä on hyödyllistä kun tarvitaan tarkkaa kirjanpitoa avainten käytöstä.
Joustavuus
Määritä aikavälit joiden puitteissa avaimet ovat käytettävissä.
Kustannustehokkuus
Vaikka sähköiset avainkaapit saattavat tuntua aluksi kalliilta investoinnilta, ne säästävät aikaa ja rahaa pitkällä aikavälillä, kun avainten hallinta sujuu tehokkaammin.
Hätätilanteiden hallinta
Hätätilanteissa nopea pääsy avaimiin.
Avainkaapit tarjoavat turvallisen ja tehokkaan tavan hallita avaimia ja parantaa yleistä turvallisuutta.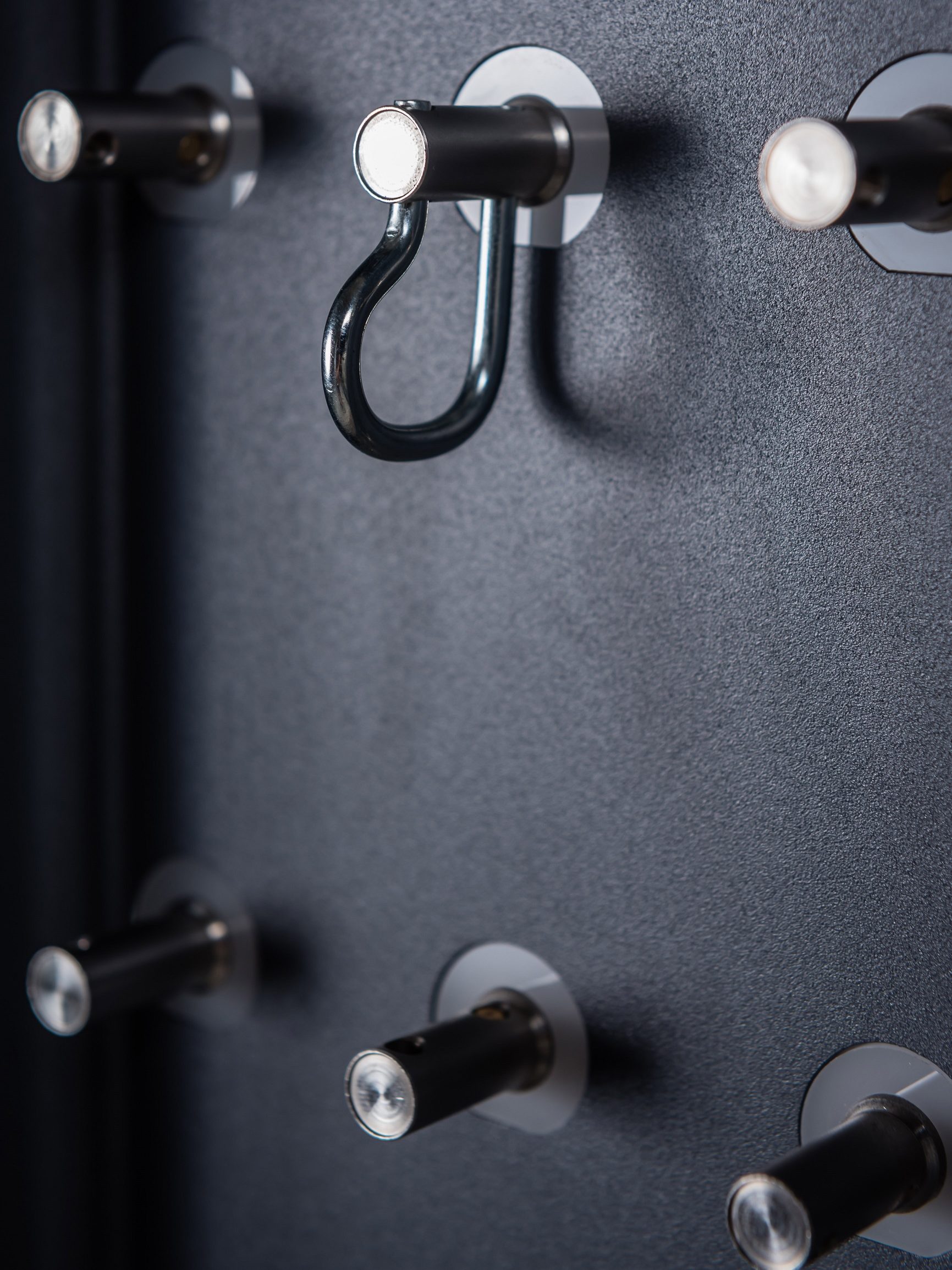 Key management software
SAIK cabinets are delivered together with the Servus key management software. The software grants individual rights to key borrowers and manages and monitors key management events in real time.